PANO continues its development on the African continent with the opening of a new agency in Mogadishu, Somalia.
PANO, a worldwide network of signage and advertising markings, welcomes a new agency in Mogadishu, Somalia. This new location reinforces the presence of PANO agencies on the African continent.

This new agency located in Digfer Road - Hodan District - Mogadishu - Somalia is managed by Mohamed Bashir Osman.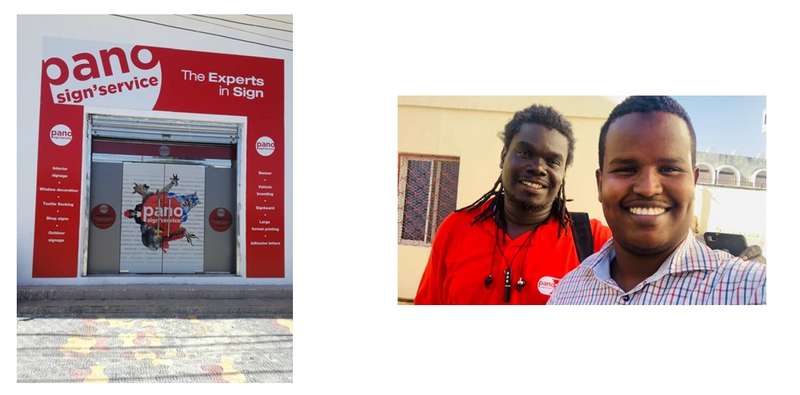 Forty years of experience in the service of brand image visibility
For forty years, the PANO network has been meeting the signage and branding needs of professionals, merchants and craftsmen, administrations and companies.
Each PANO agency is able to manufacture with an integrated production site and to manage the installation of all types of communication supports..
The PANO network produces all types of visual communication (signs, windows, vehicle markings, etc.) on all types of media (adhesives, tarpaulins, metal, etc.). Thanks to the techniques and materials used, the network's dealers are trained in the most advanced techniques of adhesive lettering and digital printing. Mastering the entire advertising chain, they are able to design, manufacture and install interior and exterior signage. They intervene in all sectors of activity to mark, point out, indicate and promote all types of information.
Thanks to their national and international presence, PANO agencies can intervene on a large scale and in synergy with the marketing departments of commercial networks and large groups.
PANO marks everything on everything and everywhere in a very short time.
About PANO :
Founded in 1980, PANO is a worldwide network of signage and branding centers. It is present throughout France, via more than 100 agencies, and internationally in a dozen countries in Europe, South America and Africa. It operates in all sectors of activity to mark, point, indicate and promote all types of information on all media - pano-group