Pet Mobile
Opportunity details
Type
Business opportunity

Cash Required

The cash required is the amount of cash you have available or that you can access without referring to a traditional loan (family loans, stock, retirement plans, etc).

1500

Total Investment

The total investment is the total expected spending amount to start their business. This includes the franchise fee and other spending fees such as real estate, staffing, and supplies.

$5,000
Native Country
Canada

Available Locations

The available locations for franchising are the territories or regions the franchisor is looking to develop.

All of Middle East
| | |
| --- | --- |
| Total Units (Worldwide) | 95 |
| Year Founded | 1996 |
Pet Mobile
Pet Mobile is a new web platform where you can find everything for your pet. It is an online center for all the resources needed to take care of your pet.
PetMobile is the leader in the specialized market of home delivery food and accessories for pets. Founded in Quebec in 1996, the company is now willing to expand its concepts and offer its services in the constantly evolving Middle Eastern market.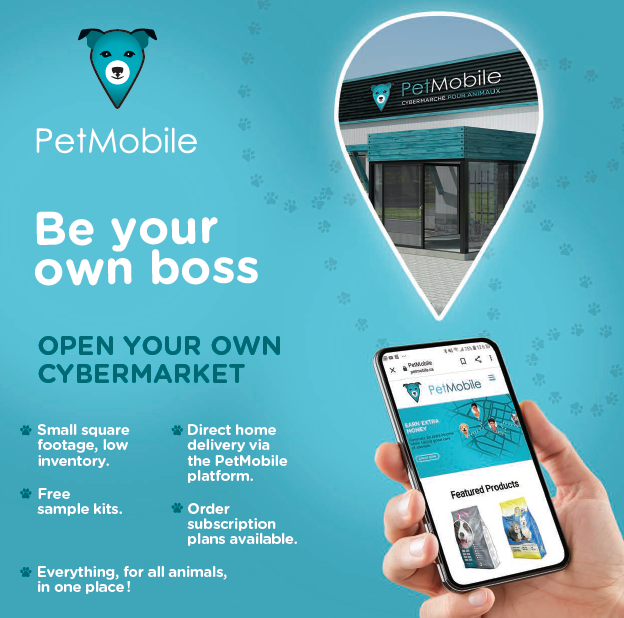 Discover the new concept created by Pet Mobile now available for development in the Middle East. With this exclusive online platform, you will be able to be flexible in your work hours and constraints. It is a great way to become your own boss! It is through the websites petmobile.ca and petmobiles.com (USA) that you will be able to reach the clients in your area. The websites can answer all the wants and needs of your clients regarding a variety of services such as food, cleaning, dog walkers, dog-sitting, … Therefore, you will only have to find  a warehouse to stock the small amount of inventory that you will have.